Contract between Airbus and Harbin Aircraft Industry Group
Airbus and Harbin Aircraft Industry Group sign framework contract for creation of aircraft composite material parts and components manufacturing centre in Harbin, China
Toulouse, 16 July 2008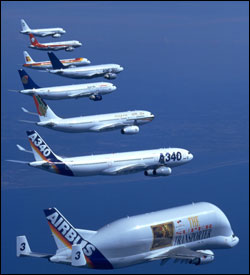 Airbus China Limited and Harbin Aircraft Industry Group Company Limited (HAIG) today entered into a framework contract for a Joint Venture Manufacturing Centre in Harbin, China to produce aircraft composite material parts and components.

The contract was signed by Laurence Barron, President of Airbus China, and Pang Jian, Chairman of the Board of Directors of HAIG, a company under China Aviation Industry Corporation II (AVIC II), at 2008 Farnborough International Airshow. Fabrice Bregier, Chief Operating Officer of Airbus, and Zhang Hongbiao, President of AVIC II, witnessed the signature of the contract.

The manufacturing centre, which will be set up in early 2009, will be an equity joint venture enterprise, with HAIG holding 80 per cent stake and Airbus China owning 20 per cent stake.

According to the contract, the manufacturing centre shall manufacture composite materials parts and components for the Airbus A320 Family and shall participate in the industrialisation and serial production of Airbus A350 XWB work-packages.

The manufacturing centre shall apply Airbus standards and procedures and meet Airbus technical and quality requirements. The personnel of the manufacturing centre shall be trained in accordance with Airbus requirements.

"The establishment of the joint venture manufacturing centre marks another important milestone for the relationship between HAIG and Airbus," said Pang Jian. "HAIG is already a qualified supplier for Airbus and is one of the shareholders of Airbus (Beijing) Engineering Centre. The new manufacturing centre will further enhance the strategic cooperation between HAIG and Airbus," he added.

"This project demonstrates once again Airbus' commitment to the long term sustainable development of China's aviation industry," said Laurence Barron, President of Airbus China. "We will continue to expand our cooperation with Chinese aviation industry in the future," added Barron.

On 26th November 2007, Airbus signed a memorandum of understanding with the National Development and Reform Commission of China to formalise the commitment of allocating 5 per cent of the A350 XWB airframe to the Chinese aviation industry.

This manufacturing centre is established as part of Airbus' efforts to fulfil Airbus' undertaking to NDRC to allocate such airframe work packages relating to the Airbus A350 XWB programme to China.

Also on 26th November 2007, Airbus and AVIC II signed a Heads of Agreement for a joint venture manufacturing centre. Today's signature is a significant step forward of the previous agreement.
Airbus Press Department