Prime Magazine
Chun Ling PERROUD is explaining in details Chinese companies difficulties, when entering the European market.

Prime Magazine, July 2008

Prime Magazine is a monthly Chinese colour magazine, targeted to Chinese stock-exchange CEO companies, top managers of the Chinese market, and high officials from ministries and Chinese administrations.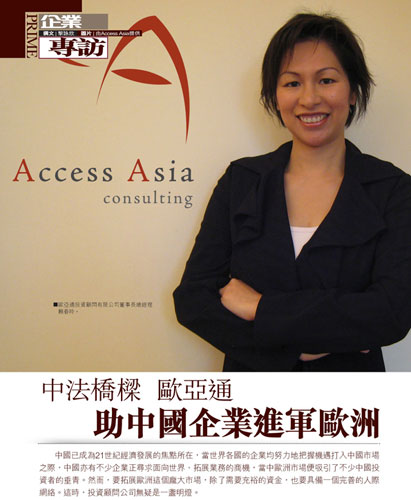 Interview of 10th June 2008: Chun Ling PERROUD, Founder of Access Asia Consulting.
Access Asia Consulting is a consulting agency located in France, the heart of Europe. The company was set up by Chun Ling Perroud, jointly with the leading European bank Credit Agricole and the European network of law firm Lamy-Lexel
Access Asia Consulting is focusing on the synergy of its networks in Europe and the in-depth knowledge in cross-cultural business practice between Asia and Europe. The company is specialized in facilitating business for Chinese companies entering the European market.
Investing or buying out firms, setting up companies or distribution networks, marketing and promoting goods, and communicating corporate image, are the core business of Access Asia Consulting. The company business activity is focused on three leading sectors: Luxury goods, Environments-friendly products and Health and welfare products.
Born and raised in Hong-Kong, and living in France for 15 years, Chun Ling Perroud observed the 2 major obstacles met by Asian companies who intend to penetrate the European market: Cross-cultural knowledge and Networking.
Cross-cultural knowledge: When trying to reach European customers, some Chinese managers very often believe that buying a distribution network or a brand will be enough. Several examples show that this is not true! With solid roots in the European culture through its own partners, Access Asia Consulting is perfectly familiar with business practices of both cultures, and understands fully customers' expectations. Thanks to its own partners, Access Asia is able to help Chinese managers to find the right Marketing, Communication, Promotion and Sales Strategies and above all, the most suitable business partners.
Networking: Europe is not yet a "Single Country". As it is the case in China, you will not sell a product with the same wording in the UK, in Italy, in Germany or in France. Furthermore, even if the European Administration tries hard to improve the legal situation, French law is not the same yet as in Italy or in Germany. With its European network of Lawyers and Bankers, Access Asia is in the position to bring a real added value to the Chinese companies trying to take a significant market share in Europe.
In conclusion Access Asia is a real springboard, allowing a Chinese company to be present in Europe without the need of being physically present.