HARBIN Economic Overview

Harbin, capital of Heilongjiang Province, the largest city in terms of total area among all the capital cities in China serves as the center of politics, economy, science , technology, culture and transportation of the Northeast of China.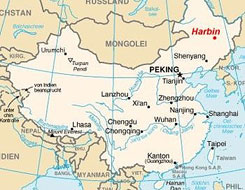 It has a total population of 9.804 million, total area of 53,100 km2 with 7 districts and 12 counties under its administration. The objective of the development of Harbin is transforming Harbin into an important equipment manufacturing base, high-tech base and organic food base as well as a regional economic and trade center and a world famous ice and snow touring city in the next 5 to 10 years.
There are 57 industrial zones in Harbin, with a planning area of 557.5 square kilometers, accumulative total developed area of 155.17 square kilometers. These include 2 national level industrial zones., 26 provincial level zones, 13 municipal level zones, and 12 district and county level zones, involving 25 industries, such as automobile, food, pharmaceutical, petrochemical, aviation and aircraft, grain processing, building materials and special equipment.
Harbin has many advantages such as supreme geographical location and distinct regional advantage, excellent natural conditions, complete infrastructure facilities and convenient transportation (Harbin has convenient transportation by water, land and air). In addition, the city has infrastructure facilities such as advanced, telecommunications. Further more Harbin has a wide investment market, distinct human resources and solid industrial basis. Harbin has 19 institutions of higher education, 521 scientific and research institutes and 400,000 professional technological personnel. It has the largest number of personnel who majored in Russian and an abundant labor resource with high quality and low cost.
The Harbin economics structure takes on the feature of whole ranged industry such as, Machine Manufacturing, High Tech, Food, ,Pharmaceuticals and Agriculture.